Multivariate Proportional (MVP) Targeting in the BrainMaster system is a new method that combines metrics such as live Z-scores in a unique manner, to facilitate operant conditioning and neurofeedback training.  It differs from conventional multivariate techniques in that it creates "composite targets" from individual targets, thus providing complex feedback.  It is not the same a existing multivariate techniques that essentially compute new functions of many variables, to produce new metrics.  Existing approaches do not in themselves address targeting, feedback, and learning in the way that the BrainMaster MVP method does.  BrainMaster has been using the MVP method for over 2 years, with growing clinical acceptance and success.
BrainMaster is the only vendor providing 4-channel comprehensive Z-score training.  Other providers are still working on the basics, while we are continually refining techniques and software.
The example below illustrates the dramatic change possible with MVP training, using a single protocol design.  This study is reported in:  Collura, T.F., Thatcher, R.W., Smith, M.L., Lambos, W.A., and C.R. Stark (2009) EEG Biofeedback training using Z-scores and a normative database, in: (Evans, W., Budzynski, T., Budzynski, H., and A. Arbanal, eds) Introduction to QEEG and Neurofeedback: Advanced Theory and Applications, Second Edition. New York: Elsevier.  It shows rapid and essentially complete normalization of amplitude and connectivity deviations, and was accompanied by significant clinical improvements.
Eyes-open:  (training condition) pre-training – note extensive abnormalities in amplitudes and connectivity
Pre MVP training:                                                                                                Post MVP training (21 sessions F3 F4 P3 P4 and F3 F4 C3 C4)
x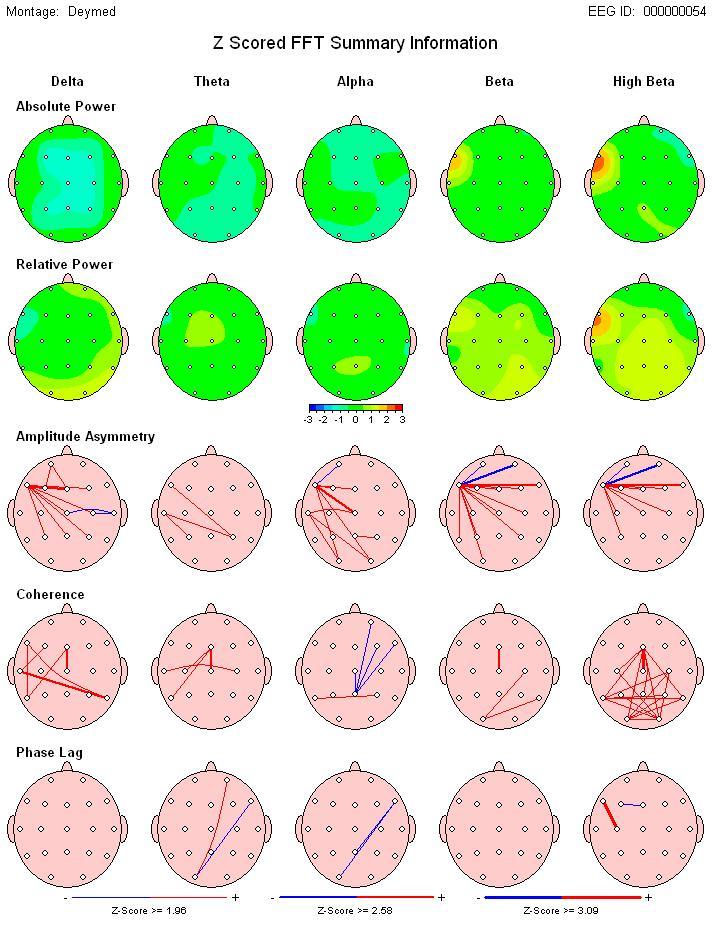 Eyes-closed (normalized even though training was eyes-open):
Pre MVP training:                                                                                                    Post MVP training (21 sessions F3 F4 P3 P4 and F3 F4 C3 C4)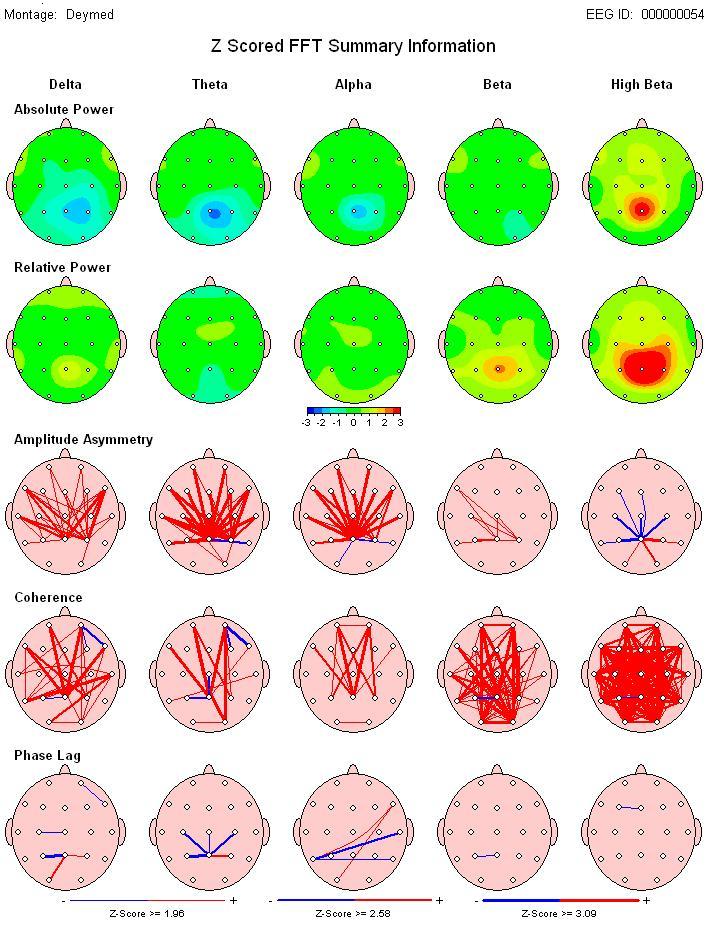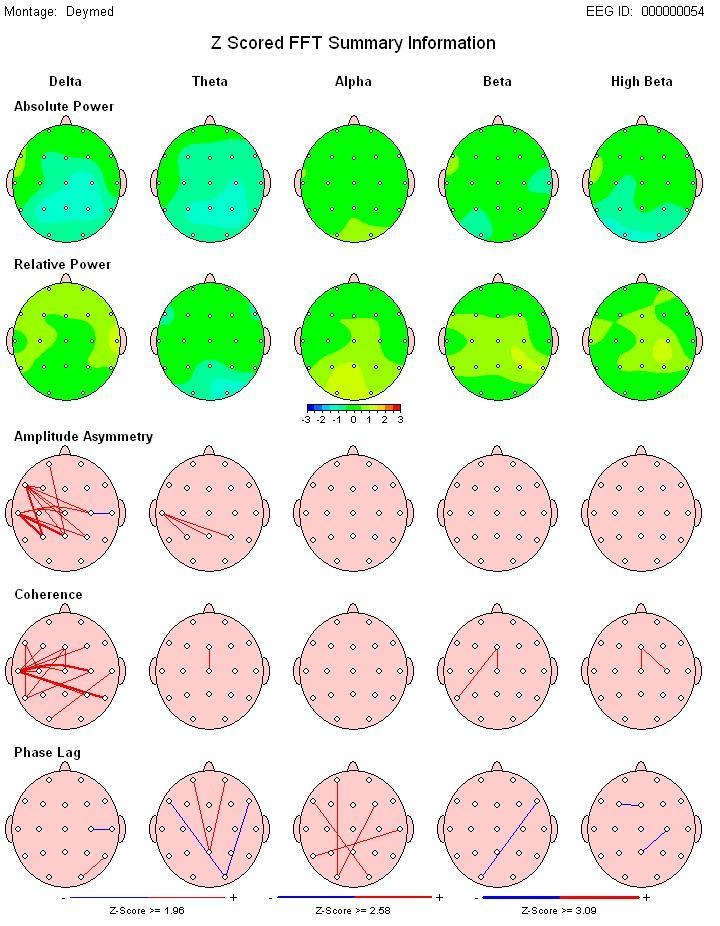 The MVP method creates new metrics that reflect desirable conditions including comprehensive cycles of relexation, concentration, connectivity, and other system attributes in a manner that reflects overall success in a single trainable metric. One of the most useful metrics consists of a measure of "percent of targets within condition" that can be used as a new training variable.  With such a variable in hand, it is necessary only to specify the required percentage score necessary to produce a reward, to create useful training protocols.  With 4 channels of EEG, it is possible to combine up to 248 individual targets into a composite target, and use it for training.  MVP training makes possible global changes in EEG, enabling the entire brain to normalize in a minimum of sessions.  It also makes possible comprehensive training of connectivity in a manner that is not achievable with conventional methods, including training of single Z-scores or simple combinations of Z-scores.  The MVP method is unique to BrainMaster and is patent pending in the US, Europe, and Canada.  This method is not limited to live Z-scores and can be applied to any set of metrics based upon a reference condition, including various types of databases, phenotypes, or templates.  It is the unique manner in which physiological variables are combined, trained, and adjusted, that gives MVP its simplicity, flexibility, and power.
A key aspect of MVP targeting is the ability to rapidly change the targeting criteria, such as the size of live Z-Score targets, instantly and for all targets.  In addition, the percentage of scores that are required in order to obtain feedback is rapidly adjustable.  By making changes in real time, the practitioner is able to change the nature of the training challenge, so that the brain becomes able to find optimal training conditions.  This is not possible with fixed target sizes, fixed percentages, as fixed parameters do not give the brain the opportunity to explore system boundaries and conditions, and find optimal states.  When target sizes are large and percentage requirements high, the brain is trained to achieve high compliance, thus put all variables within training range.  This emphasizes normalizing the "outliers", and requires the brain to have complete conformance with the normative conditions.  But when target sizes are small and the percentage requirement low, the brain can explore important subsets of the training variables, and normalize selectively.  The outliers are thus ignored, and the brain can focus on other core parameters.  This provides the ability to "comb" live Z-Scores into order, without requiring all Z-scores to be met at once.  This has been found to be of significant clinical importance.  In the example cited above, for example, initial target sizes were large (2.5 standard deviations), and the subject was able to begin training in a manner that was not unduly challenging, facilitating learning.  By the end of the 21st session, targets had been set lower (1.5 standard deviations), and almost all targets were within this range.  The BrainMaster Atlantis software with its Event Wizard functionality provides the ability to create tools to perform this type of training using live Z-Scores in an efficient and rapid manner.  When combined with the MINI-Q, MVP provides the capability to train whole-head EEG efficiently and rapidly, using an electrode cap to cover the entire head in one session.
Some practitioners are concerned about the complexity of training a large number of scores, and fear that if targets are small, then the ignored z-scores will somehow become a problem.  This is not a source of concern, as it turns out in practice.  The way we address this is by continually adjusting the target sizes and the percent required to get a reward, so that we move from the inner z-scores to the outer (most deviant) ones throughout the session.  This seems to have a "combing" effect.  The trainee gets important information at all times.  It is like alternating between an easy task that requires a high score, and a hard task that we allow the trainee to get lesser scores at.  The process amounts to selecting a subset of z-scores to train.  This seems to work very well, and the practitioner can find "sweet spots" where the brain tunes into the information optimally, then alternate to the other ranges.  This is a key to our system, and it is not found in other systems.

We also understand that customizing protocols can be important, and we try to make this as flexible as possible with the Event Wizard.  Once the simple basics are understood, the practitioner can design literally any type of protocol at will.